"I'm making you a sandwich you can't refuse." – The Godfather.
Do you love godfather subs, but sometimes just want them to be a little more… bite-sized? Well, have I got the solution for you. I had this idea the other night to make a mini version of one of my favorite sandwiches – The Godfather sub. And even though Don Vito Corleone says that revenge is a dish best served cold, we're gonna throw it onto a panini press to smash it down and grill it to perfection.
I give you… *Drumroll* Mini GodFather Panini.
You know how we do it on Bobby Boyd Living… We only enjoy delicious comfort foods and live the good life. This mini godfather panini recipe is an original – Just like the Easy S'mores Popcorn Bake Recipe, so you know what to expect… Uhhhh, Mindblowing Deliciousness = Heaven. 
When you take a bite of this, you'd taste the juicy sweet meat variants, sweet cheese, buttery Hawaiian bread rolls, and all the seasonings and condiments that were invested into it.
And tell you something… Not only is this recipe mouthwateringly delicious, but it is also ready to go in just 20 minutes.
And it is super customizable. Feel free to layer as much meat and cheese as you want, but don't overload your sandwich, so your panini press doesn't overheat.
Just assemble the sandwich, place it on the panini press and smash (ahem, grill).
Note: If you don't have a Panini press, you can use a flat skillet and place a cast-iron skillet on top to press the panini.
Ingredients Needed To Make The Delicious Mini Godfather Panini Recipe
Apart from the different meats and cheese used in preparing this recipe, the ingredient list is simple and inexpensive. You can find most of the condiments and seasoning in your pantry.
Here are the ingredients needed:
– Hawaiian sweet bread rolls
– Spicy salami
– Traditional salami
– Coppa
– Provolone cheese
Tomato rings
– Shredded Iceberg lettuce
– Italian pickled vegetables
– Yellow mustard
– Mayonnaise
– Olive oil
– Italian seasoning
– Melted butter
– Vinegar
– Dried Oregano
– Dried mustard
– Salt to taste
– Pepper to taste
[See the recipe card for instructions on how to make the Delicious Mini Godfather Panini]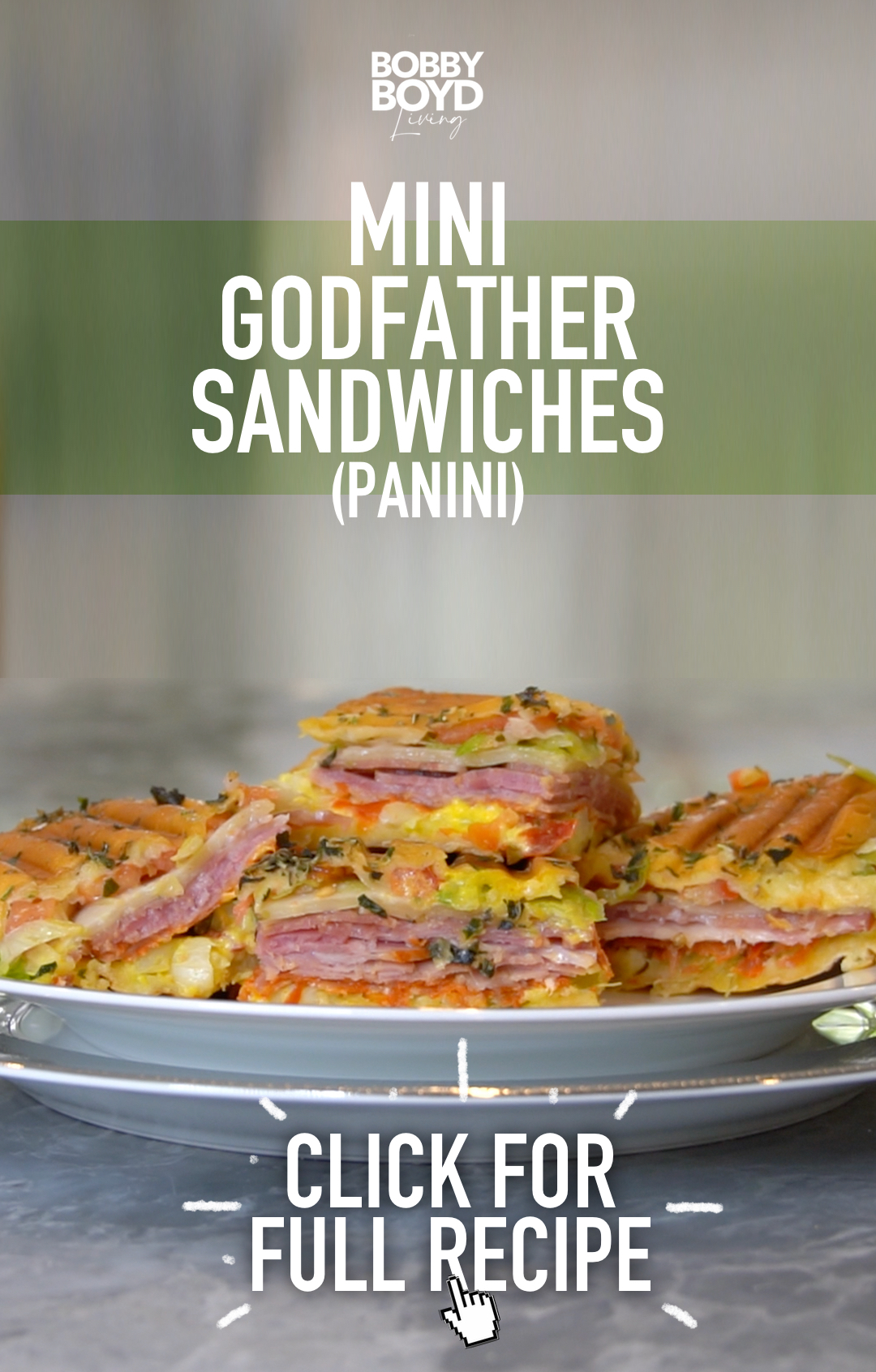 Delicious Mini Godfather Panini Recipe
This Delicious Mini Godfather Panini Recipe delivers an explosive taste of juicy meat flavors and sweet cheese wrapped in buttery Hawaiian rolls. They make cute appetizers, snacks, or party food.
Equipment
Knife

Mixing bowls

Whisk

Spoon

Cutting board

Microwave

Pastry brush

Panini press
Ingredients
12

Hawaiian sweet bread rolls

Spicy salami, as desired

Traditional salami, as desired

Coppa, as desired

Provolone cheese, as desired

Tomato rings, as desired

2

cups

of shredded iceberg lettuce

1

cup

of Italian pickled vegetables

4

tablespoons

of yellow mustard

4

tablespoons

of mayonnaise

½

cup

of olive oil

1

tablespoon

of Italian seasoning

¼

cup

of melted butter

¼

cup

of vinegar

1

teaspoon

of dried oregano

½

teaspoon

of dried mustard

Salt to taste

Pepper to taste

Marinara sauce, to serve
Instructions
Cut the Hawaiian sweet rolls in half. Set aside.

In a medium bowl, combine the vinegar, dried mustard and oregano, salt, and pepper to taste. Whisk to mix all the ingredients. Pour in the olive oil and continue to whisk until it is combined. Set aside.

Spread the mayonnaise and mustard on the bottom half and only mayonnaise on the top half. Spread the Italian pickled vegetables over the mustard-covered bottom half.

Start layering your different Italian meats on the pickled vegetables. Then, add a layer of provolone cheese.

Sprinkle a handful of shredded iceberg lettuce to cover the cheese layer, top with tomato rings, and drizzle some of the sauce oil-vinegar sauce. Finally, cover with the top half of the bread roll to complete the mini godfather panini.

Pour the melted butter into a bowl and add the Italian seasoning, stir to combine. Pop it in the microwave to warm for 1- 2minute.

Use a pastry brush to spread the butter mixture on the top of the bread rolls.

Turn on the panini machine and let it heat up (until the green light comes on). Place the mini godfather panini on the press and cover it with the grill press for 3-5 minutes, or it turns a golden-brown color and has appetizing brown grill marks. Serve with spicy marinara dip.
Tried this recipe?
Post a picture on Instagram and mention @bboydla
These mini godfather paninis make cute appetizers, snacks, or party starters. Your kids will love this, so you can stock them in your fridge. 
Have you tried the Christmas Crack Sandwich or Easy Cubano Sandwich?