When people think of chicken breast, they might think of some bland slab of meat with the sole purpose of being healthy. Not on my watch! Today I'm bringing to you a super special take on chicken breasts – Low Carb Crispy Buffalo Chicken Breasts.
If you don't know this already, my chicken breast recipe is the truth. Lisa left me a comment on one of my blogs, she said:
"I have to say your chicken breast recipe has been a game changer for my family. They constantly ask me to make it…. We had it tonight with the Pioneer Woman's Chicken Bowtie Pasta (check it out). Thank you, and Happy Valentines Day!"
This comment snuggled my heart. I'm so glad I can inspire happiness and delicious love in many families through my recipes that I share on here.
Now, I'm here with yet another chicken breast recipe…
The buffalo sauce is the star of this recipe; its intense flavor hits the right spots. And although I'm on my keto journey, I added a little panko bread crumbs on top for a light crisp to celebrate my cheat day. If it's not your keto cheat day, you can substitute the bread crumbs for some crushed pork rinds.
Regardless, it still ends up being low carb, and anyway you slice it, you're going to love it.
Trust me, this is the best low-carb crispy buffalo chicken breasts you'd ever have. No jokes. I combine juicy, spicy, flavorful, and crunchy. What more could you ever ask for?
Did I hear someone say 'healthy'? Well, it is healthy too!
Side Note: If you binge on the crispy buffalo chicken, it is possible to get 'kicked out' of ketosis. BUT, it will be easy to get back on track. Life is short – Enjoy good food while you can.
Ingredients Needed For The Keto-friendly Crispy Buffalo Chicken Recipe
The low carb crispy buffalo chicken is quick, simple, and inexpensive to make. You'd be amazed at the number of pantry and fridge ingredients needed to make this delicious recipe happen.
You will need the Chicken breasts (of course), seasoning, and ingredients for the topping and creamy spread.
For the creamy, delicious spread, you'll need:
– Cheddar cheese, grated
– Sour cream
– Melted cream cheese
– Dry ground yellow mustard
– Buffalo sauce
For the topping:
– Panko breadcrumbs
– Garlic salt
– Smoked paprika
[See the recipe card for instructions on how to make the Low Carb Crispy Buffalo Chicken]
How To Store
Wrap the chicken in a plastic wrap or freezer bag and store in the fridge for up to 5 days or freeze for close to 2 weeks.
When you are ready to cook, thaw it overnight in the fridge if frozen. Then let it cool to room temperature. To reheat, wrap with aluminum foil and bake in the oven for 10 -15 minutes.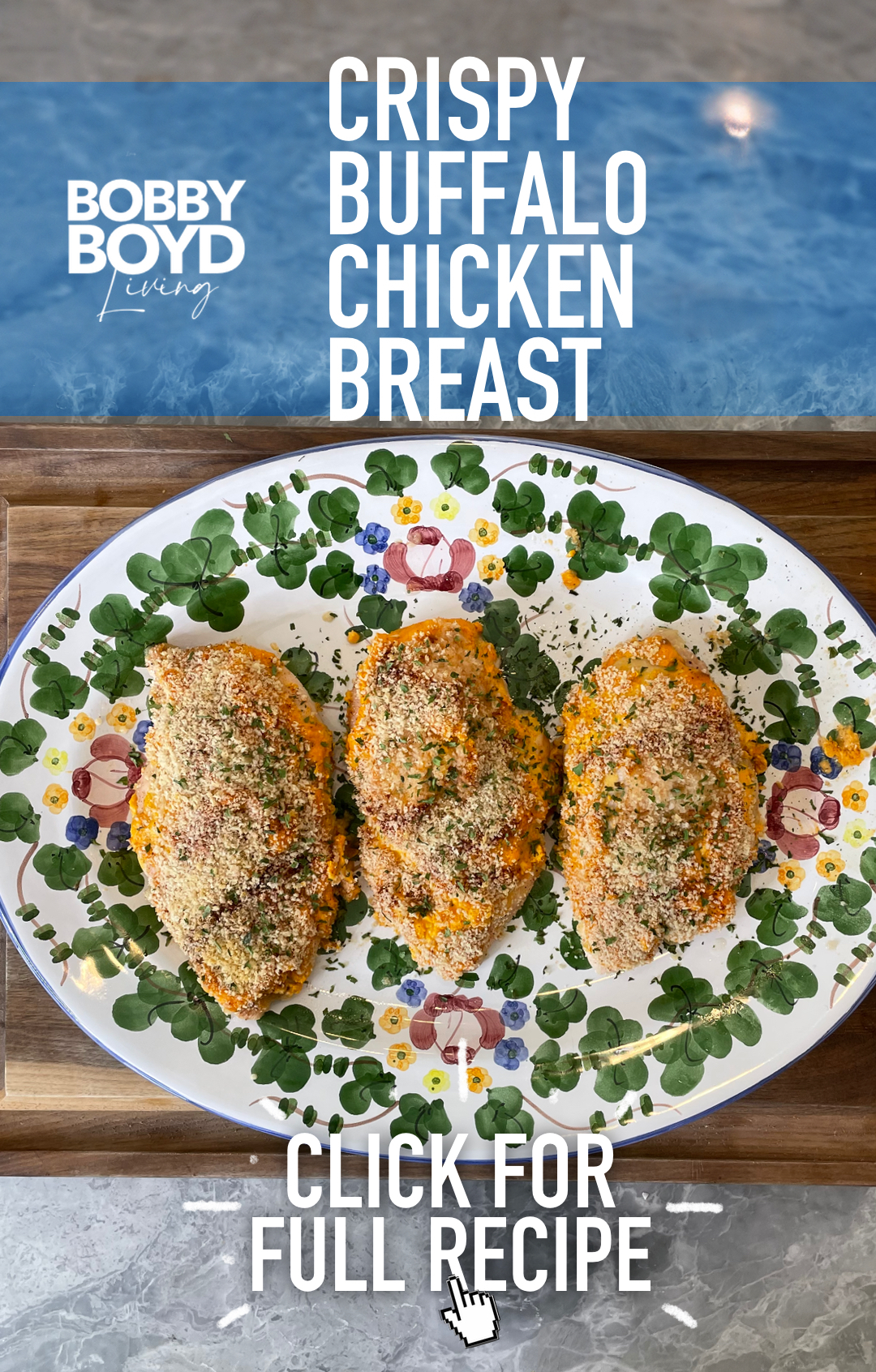 Low Carb Crispy Buffalo Chicken Recipe
These Low-carb Crispy Buffalo Chicken Breasts are perfectly crisped and cheesy on the outside and juicy on the inside. It is the perfect meal for your Keto cheat days.
Equipment
Meat tenderizer

Cutting board

Grater

Mixing bowl

Measuring cups and spoons

Parchment-lined baking sheet

Oven
Ingredients
4

Chicken breasts

Salt to taste

Pepper to taste
For the Creamy Spread:
1/2

cup

of Cheddar cheese

grated

1/2

cup

of Sour cream

1/2

cup

of Melted cream cheese

1

teaspoon

of Dry ground yellow mustard

1/2

cup

of Buffalo sauce
For the Topping:
1

cup

of Panko breadcrumbs

1

teaspoon

of Garlic salt

1

teaspoon

of Smoked paprika
Instructions
Preheat your oven to 375 F.

Lay the chicken breasts flat on the cutting board. For up to 30 minutes, pound with a meat tenderizer to flatten and even out the chicken breasts.

Transfer the breasts to a parchment-lined baking sheet. Sprinkle salt and pepper to cover and season the chicken breasts properly. Set aside.
FOR THE CREAMY SPREAD
In a medium bowl, add the grated cheese and sour cream. Mix with a spoon, then add the melted cream cheese and combine all three ingredients by mixing vigorously.

Measure the dry ground mustard and buffalo sauce into the cheesy, creamy mix. Combine the ingredients by mixing with a fork. Set aside.
FOR THE TOPPING
Into a bowl, measure in the breadcrumbs, garlic salt, and garlic salt. Mix thoroughly to combine all three ingredients. Set aside.
BACK TO THE CHICKEN BREASTS
Spoon the creamy spread onto the chicken breasts. Use the spoon to evenly coat the top area of the chicken breasts with the delicious spread.

Sprinkle a generous amount of topping over the coated chicken breasts.

Place the buffalo chicken breasts in the oven to bake for 20 minutes or until golden brown and crisp.

Once the crispy buffalo chicken breasts are out, let them sit for about 10 minutes at room temperature. It will allow the chicken to soak in more of the delicious flavors. Garnish with fresh or dry parsley and enjoy immediately.
Notes
You can add pork rinds to the cream cheese mix for a light crunch.
If the chicken breasts are thick, they will take more time in the oven to bake. So make sure to tenderize your chicken breasts until it is thin and flat.
Tried this recipe?
Post a picture on Instagram and mention @bboydla
Have you tried the Healthy & Juiciest Chicken Breast Recipe yet? Or the Homemade McDonalds Chicken Nuggets Recipe?
If you tried this recipe, do let me know in the comments. Take a picture and share it on social media to spread the word about the mini chicken taco love. Tag me @bobbyboydla on Instagram so that I can see it.