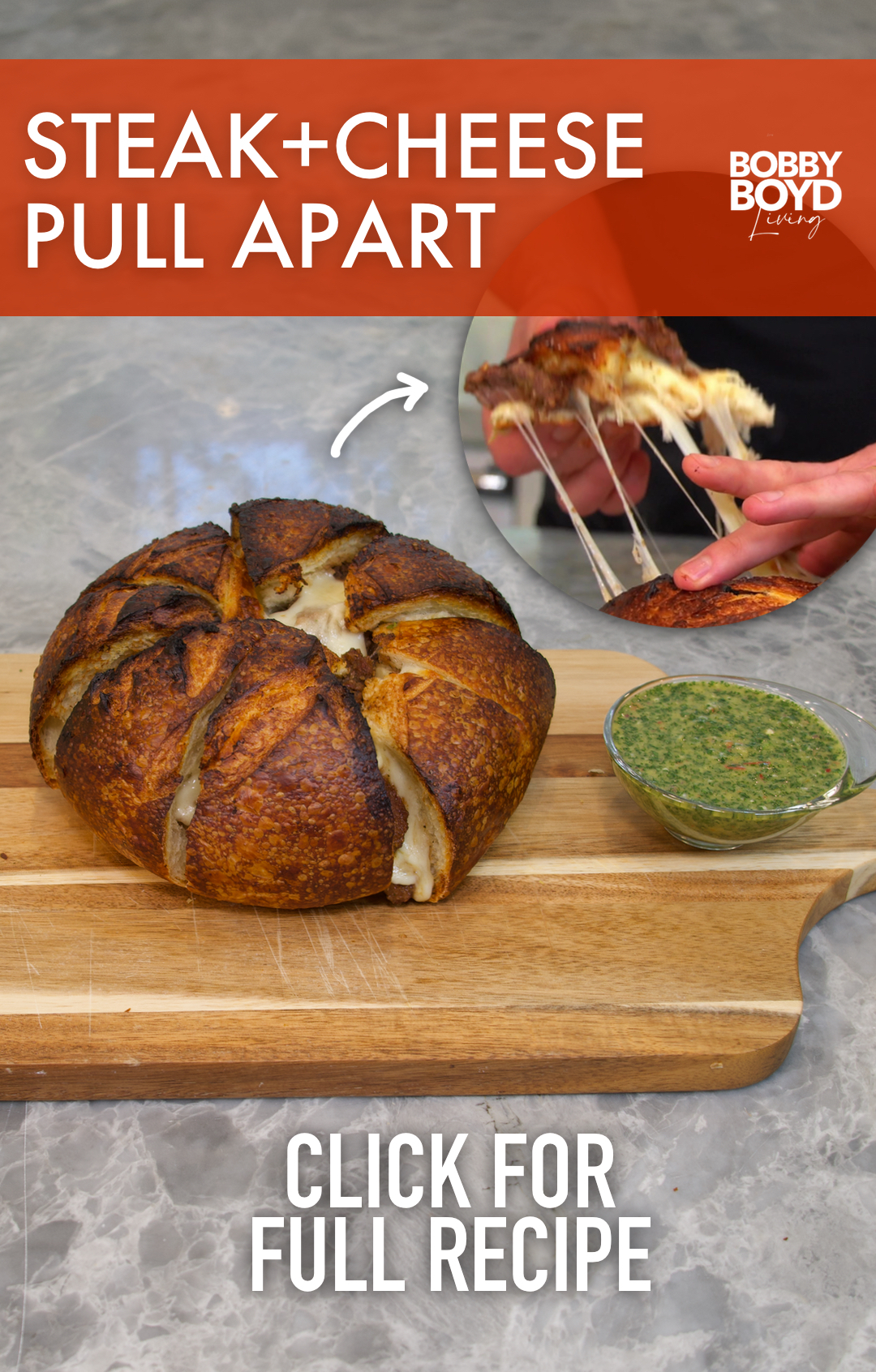 Steak & Cheese Pull-Apart Bread Recipe
This Steak & Cheese Pull-Apart Bread Recipe serves you tender and juicy ribeye steak and melted gooey Provolone cheese wrapped and baked in a delicious sourdough bread roll. Try it with homemade chimichurri dipping sauce!
Sourdough bread

Provolone cheese
For the Steak:
Boneless ribeye steak

1/4

cup

of Worcestershire sauce

1

teaspoon

of black pepper

1

teaspoon

of kosher salt

1

tablespoon

of garlic powder

1

tablespoon

of onion powder
For the Chimichurri Sauce:
Preheat the oven to 425 F.

Semi-freeze the ribeye steak by placing it in the freezer for 30 minutes, then take it out and slice it thinly.

Put the thinly sliced steak in a plastic ziplock bag and add the marinade — Worcestershire sauce, black pepper, kosher salt, garlic powder, and onion powder — straight into the bag. Seal it tightly, then shake it vigorously to combine the ingredients and coat the meat properly. Set it aside to marinate for 30 minutes (under room temperature).
While the meat is marinating, make the chimichurri sauce...
Into the food processor, add the parsley, cilantro, oregano, chopped red pepper, shallot, and garlic cloves, and measure in the olive oil. Pulse the processor a few times.

Add the cumin, salt, lemon juice, and red wine vinegar to the processor. Before you start blending the ingredients, have about 1/2 cup of olive oil handy. Start blending the sauce while adding the olive oil gradually, and stop adding the olive oil once the ingredients are blending smoothly. Stop the food processor once the chimichurri sauce is smooth and runny.
Now to the Pull-Apart Bread...
Place the sourdough and slice from the center (but not all the way to the bottom) in five or six points around the bread, as if you wanted to divide the bread into five equal halves. [See Video]

Take the marinated steak out of the bag. Wrap one or a few pieces of meat with provolone cheese and tuck into different corners of the slit-up bread. Do this until the bread has been stuffed with steak wrapped in cheese.

Place the bread in the oven to bake for 15 minutes.

Once the steak & cheese pull-apart bread is ready. Serve with the chimichurri dipping sauce, and enjoy pulling apart the bread with gooey sweet cheese.
It is important to semi-freeze the steak for at least 30 minutes. If not, it will be fatty, loose, and difficult to slice.
Post a picture on Instagram and mention @bboydla